Ali Akbar Khavand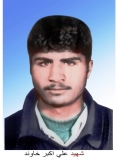 Father's name: Hassan Date of Birth: ۱۳۴۴/۱/۱ Place of Birth: Ferdows Date of Martyrdom: ۱۳۶۳/۱۲/۱۳ Martyrdom Site: Majnoon Island Burial Place: Ferdows Dispatcher:
---
Biography
Martyr Ali Akbar Khavand, son of Hassan, was born on March 21, 1965 in the village of Tefal Kuh in Ferdows county and in a nomadic family.
From an early age, he became familiar with deserts and deserts and worked as a rancher alongside his father. Ali Akbar was deprived of the blessings of science and education because of his remoteness from the city and worked as a tractor driver as a teenager. Ali Akbar's adolescence coincided with the fall of the Pahlavi regime, and he attended religious ceremonies during the revolution and encouraged his friends to do so. After the revolution, he participated in literacy classes with great efforts and learned to read and write literacy.
Ali Akbar married in 1983 and a year later volunteered for holy military service to join the Islamic Revolutionary Guard Corps (IRGC). He spent his training in Mashhad and returned to his hometown shortly after his leave and made one last farewell to his family.
After that, he was deployed to the front as a sniper fighter from ferdows corps and through the 5th Nasr Division, and finally on March 21, 1984, he was martyred on Majnun Island due to a mortar shell shrapnel.
The body of the martyr was buried in The Great Paradise of Ferdows after his funeral.
A memoir quote from the relatives of the martyr:
"After the victory of the Revolution, Ali Akbar worked for two years in the Construction Jihad and later was sent to military service through the Revolutionary Guards, and his presence in the operational areas had a great impact on his morale and made him more in love with the Imam and the Revolution. When he came on leave from the front, he spoke to us about the mood of the Front, the crimes of Saddam and the Ba'athist enemy, and of course the sacrifices and sacrifices of the warriors of Islam.
In his own words, he encouraged others to come to the front to defend Islam and the revolution. The last time Ali Akbar was on leave, he had been so impressed by the spiritual spirit of his front that he constantly talked to those around him about his reluctance to the world and willingness to the world, and ordered everyone to perform obligatory acts and leave the sanctities. It was as if the pigeon of his soul was no longer tolerant of this world, and the love of martyrdom and will of Hazrat Dost wavered in his face and so did he.
Before his leave was completed, he left for the front after the last farewell to his family, and a few years later the news of his killing spread to the kingdom in the city. Ali Akbar, light-headed and light-headed, jumped to God and was martyred."
---
Text of Martyr Ali Akbar Khavand's Will
Come on… Al-Rahman al-Rahim, greetings, in the name of God, in the name of the one who created the earth, the heavens, the world of creation, man and humanity, who led us to the right path to praise him, directly, which is the way to victory and to the main destination, and the way to heaven is in his name who sent prophets to guide people to guide them. Among themselves were the same people, and in his name, we will build the rule of Adl Ali throughout the world with the help of Evo, led by his vice-emissary Khomeini, the hero of the hopes of the weak of the world, and with greetings to the promised Mahdi of the Imam of time and greetings to Imam Ummah Khomeini, this mercy of God who will never be given to the disbelievers except the Muslim nation of the world and greeting you dear listener I have a few wills to you in this letter. I write that the only testament I have to you is that the heart is closed to God of Excellence and together with other jihadists in the fight scenes like The Lion of Gharan attacked the enemies of Islam and their ranks like loose bushes that are blowing a gust of wind and disintegrating them, and another order to pray to you for Faraj Mahdi and ask God almighty for the farajqa of Imam Zaman. Pray to the warriors of the battle scenes and support them and pray for the Imam of the Ummah, and my will to my dear parents who have suffered a great deal of pain at night when I was little, and my father has suffered a lot for me, I hope that he will make me lawful and forgive me if he sees evil and forgive me if he sees evil and my brother does not turn grief into nothing and pray for me and another. My wife, I hope you will take care of my child and give me satisfaction and satisfaction, because you are satisfied that God will be satisfied and my will is my brothers, I hope they will forgive me and if they have seen me until this bad day, forgive me and pray for me and ask god for forgiveness, at the end of the day I will say goodbye and my burial place in the city. Ferdows, Behesht Akbar, bury me and pray for me, and my parents when they need anything, my child and their wife will not leave anything. Mother, do not cry for me and do not cause any grief because this is a way that people have been better than you and me who have followed, and I have taken aim at this path. Al-Salam I al-Tabah al-Huda Ali Akbar Khavand